Stylish Wardrobes and Shower Screens is your one-stop solution for all your storage and bathroom enclosure needs, catering to a diverse range of preferences and financial plans. Our collection of wardrobes is designed to cater to every need and budget. Whether you're looking for a sleek and contemporary wardrobe to elevate your bedroom's aesthetic or a functional and budget-friendly solution to maximize storage space, we have you covered. Our expert designers will work closely with you to craft the perfect wardrobe that not only complements your space but also fits comfortably within your budget constraints.
In addition to wardrobes, Stylish Wardrobes and Shower Screens offers an extensive selection of shower screens designed to suit various needs and budgets. Whether you desire a luxurious frameless glass enclosure or a more budget-friendly option without compromising on quality, we have the perfect solution for you. Our team of professionals is committed to ensuring your bathroom space reflects both style and functionality, regardless of your financial considerations. We understand that every project is unique, and we are dedicated to delivering tailored solutions that meet your specific requirements without breaking the bank.
At Stylish Wardrobe & Showerscreens, we understand the importance of a well-organized and aesthetically pleasing wardrobe. Your wardrobe is not just a place to store your clothes; it's a reflection of your style and personality. Whether you're looking to revamp your existing wardrobe or create a brand new one, we've got you covered. Explore our range of wardrobe options and showerscreens to elevate the functionality and beauty of your space. 
View our Gallery
Check out our Wardrobes Gallery for some inspiration
Built-ins
Stylish Wardrobes and Showerscreens take the concept of functional elegance to a whole new level with their meticulously crafted built-in wardrobes. These bespoke storage solutions are a seamless blend of form and function, designed to elevate the aesthetics of any living space while optimizing storage efficiency.
Each wardrobe is a testament to precision and attention to detail, utilizing high-quality materials and finishes that not only provide ample storage for clothing and accessories but also enhance the overall decor of the room. Whether it's a sleek, modern design or a timeless classic, Stylish Wardrobes and Showerscreens' creations redefine organization, offering homeowners a sophisticated and customized solution that harmonizes with their unique style and requirements.
Walk-ins
Stylish Wardrobes and ShowerScreens specializes in crafting luxurious walk-in wardrobes that redefine both form and function. Each walk-in wardrobe is a symphony of innovative design and premium materials, offering ample storage for clothing and accessories while exuding an aura of sophistication.
Our commitment to quality is evident in every aspect, from the selection of high-end finishes to the incorporation of customizable shelving and lighting solutions. When you choose Stylish Wardrobes and ShowerScreens, you're not just investing in a wardrobe; you're embracing a lifestyle of elegance and practicality that effortlessly elevates your daily routine.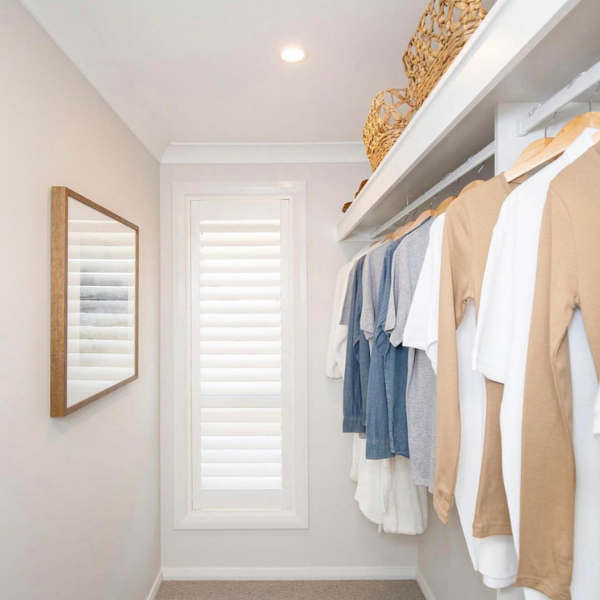 Custom-Made Wardrobes to Perfectly Suit Your Needs
Our custom wardrobes can provide your space a nice personal touch which speak to your own aesthetic individuality. Modern rooms, for example, may choose sleek handles and sliding doors. A nice robust combination of colour with stark contact can upgrade any room with an updated modern appearance. If your specific preferences are abstract or minimalist, a modern-style unit can complement your tastes well.
What's great about our custom wardrobes is that they allow you to choose among a wide array of available options to meet your particular storage needs. For instance, if the wardrobe has gone overflowed with tailored suits, then you can request to have a handing compartment, which we'll design to fit them in a perfect manner. In addition, you may add a floating tie rack and accessory drawers near it, so that you will never need to hunt for ideal complimentary items any longer.
Our custom wardrobes are built according to the specific shape and size of your rooms, so that you'll never need to compromise on a design only to find a fitting structure. Obviously. this isn't possible with pre-packaged products, with which you usually find yourself comparing the feel and look with the suitability of its relevant accommodations. On the other hand, our custom units utilize every bit of available space in your room, from floor to ceiling, even under slanted ceiling or awkward corners.
Custom wardrobes also have the added advantage of being built to last. All the way from the edging, to fittings and lumber decisions, a highly-durable structure is key. Since you'll be going with a permanent design, without having to sacrifice with replaceable units, then you can expect top-quality and responsiveness when working with our specialists in customer wardrobes creations. Explore your options with our team, who can offer a wide range of styles, colours, door sliders, mirrors and pulls that you may integrate into your ideal wardrobes.
If you have finally decided to replace your outdated wardrobes, avoiding reading through catalogues that have endless items that most homeowners already possess in their bedrooms. Make the smart transition to a personal design, specially made for your designated living area, lasting for decades to come.
Call Stylish Wardrobes & Showerscreens
Stylish Wardrobes and Showerscreens can come to your place in the Camden/ Campbelltown region, or the surrounding areas such as Oran Park, Harrington Park, and Narellan. You will discuss specific wardrobe needs and requirements with our team and reach the perfect solution. Call us today at 4040 4325 or contact us online. Alternatively, come in to our showroom and see our custom wardrobes in Smeaton Grange to speak to our team and see all our fabulous wardrobes for yourself.